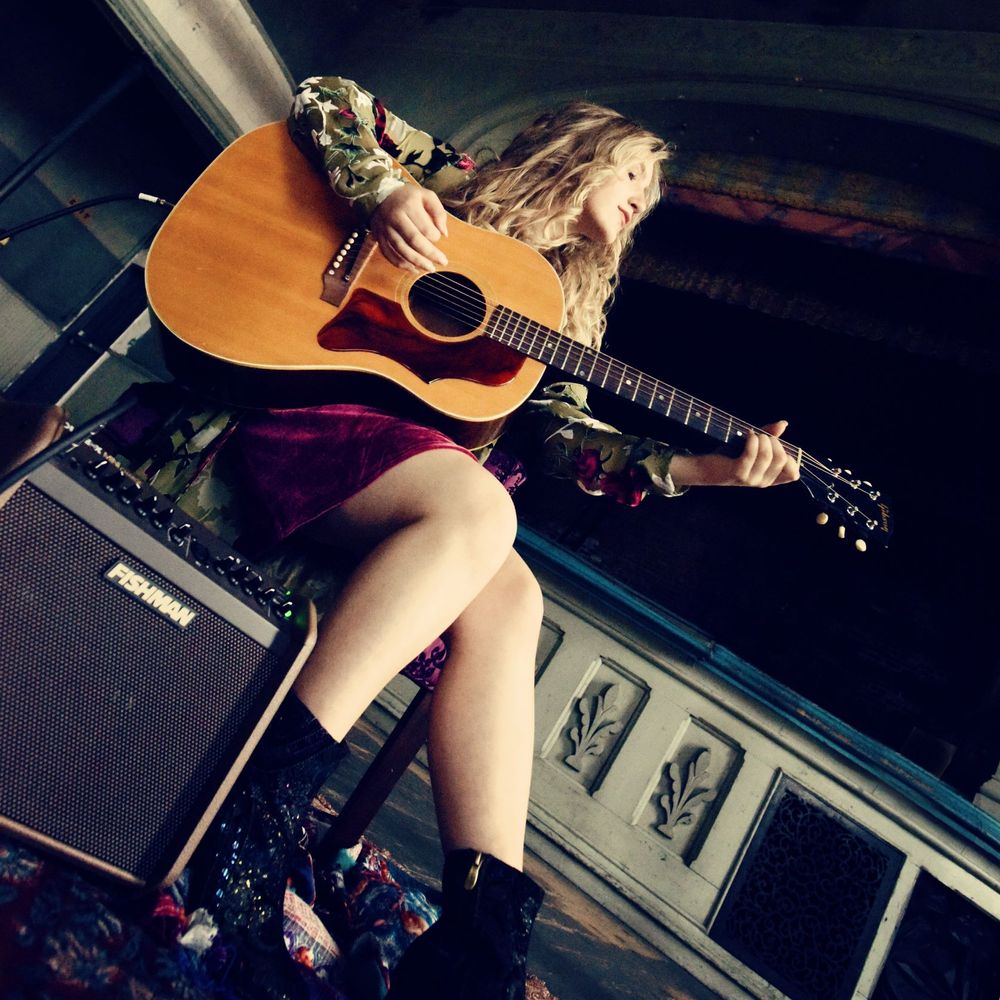 Aspen Jacobsen
Singer-songwriter
Award-winning teen singer-songwriter and multi-instrumentalist, Aspen Jacobsen has a natural gift for connecting with her audience through her introspective lyrics and emotive voice.  Aspen's original work is a modern twist on Americana and Folk music. 
In the fall of 2022, Aspen enrolled in the University of Southern California's Popular Music Program as a singer-songwriter after graduating from Interlochen Arts Academy's High School. She released her first full length album, Arsonist Daughter, October 2022. Previous recordings include; Love Each Other Right (Nov. '19) and self-titled EP Aspen (Oct. '18).
When I write a song, I start with a feeling—my main goal is to have a strong emotional exchange with the audience through my music," shares Americana-Folk singer-songwriter and multi-instrumentalist Aspen Jacobsen. The award-winning artist is an empathic and thought-provoking lyricist with a flair for many time-honored roots music traditions. The artist from Commerce, Michigan is also only 18 years old. 
At just 9 years of age, Aspen found her purpose while busking for tips with a little red ukulele. Since then, the prodigiously gifted musician has earned awards and scholarships; has actively released EPs and singles; and she has performed at a variety of well-respected venues and festivals.  Today, Aspen furthers a variety of Americana styles through a series of personal and purposeful singles. 
"I first heard old time music at my first music festival, and I immediately connected with the music and the community. There was so much love and acceptance there," she recalls. "I soon realized that this is what I want to do with the rest of my life." 
Aspen's natural affinity for roots music remains a mystery. While her family is supportive of her talents, she doesn't come from stage parents or a record-collecting family. Aspen is conversant in old-time music, country, folk, blues, and bluegrass. Yet, she is an individualist—she aspires to make folk music resonant with her generation while reverently carrying on the tradition of writing music of the people, for the people. 
Aspen tells stories like a country artist, and speaks her mind like a folk musician. Her personal and progressive original songs recall the approach of Joni Mitchell, and Ani DiFranco—two artists steeped in music history but not bound to it. Aspen is also a gifted instrumentalist who plays acoustic guitar, electric guitar, bass, mandolin, piano, keyboard, and ukulele, and she also contributes these skills as an accompanist and arranger for other people's songs. 
Her story exudes classic Americana mysticism. Aspen bought a guitar purchased from busking, and, although she had your typical parents-mandated piano lessons previously, she immediately took to playing roots music on stringed instruments like it was fated. "I have no idea where it came from—something just clicked within me," she says. She learned the basics by ear—a method that works for her today—and, at the age of 10, began songwriting. Soon after, Aspen was performing at listening rooms and festivals and was awarded multiple scholarships for her astounding musicality. 
Aspen previously explored musical theater, professional stage and screen acting and opera, and these formative experiences may account for her polished onstage demeanor. As a teen, her resume already reads like a storied vet's career. Aspen has played major music festivals in Michigan including Arts Beats and Eats; Wheatland Music Festival; Earthworks Harvest Gathering; Ann Arbor Summer Festival; and the Buttermilk Jamboree. She has also been invited to perform as an opener at premier Michigan listening rooms such as The Ark, 20 Front Street, Trinity House, and the Grand Rapids Listening Room. In 2019, Aspen was the youngest singer-songwriter to ever be featured in the Radio DJ Showcase at the Folk Alliance Region Midwest annual conference. 
To date, Aspen has released three critically-acclaimed albums. Most recently her song "Tale of a Chameleon" from her 2022 album 'Arsonist Daughter' won the Country/Bluegrass Category for her song "Tale of a Chameleon." Besides the recent IAMA award, her new album 'Arsonist Daughter' won album of the year on Blues and Roots Radio and was the #4 and #5 most played album by DJs reporting to the Folk Alliance International's Folk Radio Charts in November and December 2022. Prior to 2022, her music also garnered prime recognition and nominations from other prominent songwriting competitions as the Alternative Country Best Song Category; Blues & Roots Radio's Song Contest; and International Songwriting Competition's Teen Category.  Additionally, Aspen has the distinction of being one of six singer-songwriter finalists in the YoungArts 2022 program, a competition which receives more than 7000 applications per year. She also holds sponsorships with Fishman, Reunion Blues gig bags and instrument cases, and Shubb Capos. 
These days Aspen is balancing school, recording sessions and music career responsibilities. In the fall of 2022, she enrolled in the University of Southern California's Popular Music Program as a singer-songwriter after graduating from the Interlochen Arts Academy's High School in northern Michigan. It's definitely a full-schedule. "Sometimes I wake up in the morning, look in the mirror and see guitar string marks ingrained on my face," she says with a good-natured laugh. Aspen continues: "But I know who I am, and I know what path I'm on. Every time I perform, I pour out my heart and soul and I feel my purpose."
Press photos